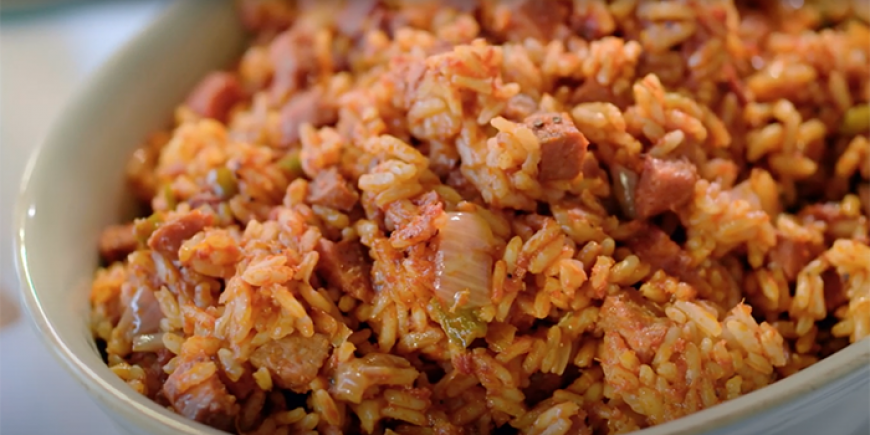 Gullah Red Rice
Gullah red rice was derived from the West-African dish Jollof rice. It has an intense tomato flavor but it's not overly acidic thanks to the addition of sugar. Adding smoked pork sausage gives the rice a subtle smokiness as well. This is a robust side dish! ...
Prep Time

20 min

Cook Time

40 min

Total Time

1 hr

Yield

8-10 Servings
Ingredients
2 cups uncooked parboiled rice
1/4 cup vegetable oil
8 ounces smoked pork sausage, finely diced
1 large onion, finely diced
1 bell pepper, finely diced
Two 6-ounce cans tomato paste
4 teaspoons granulated sugar
1 tablespoon garlic powder
1 tablespoon kosher salt
1 tablespoon fresh cracked black pepper
Method
1
Rinse the rice until the water becomes slightly clear. (This removes the starch.)
2
Preheat the oven to 350 degrees F. In a large frying pan, heat the oil over medium-high heat. Add the sausage, onion and pepper and cook, stirring, until the vegetables soften and start to brown at the edges, 3 to 4 minutes. Stir in the tomato paste, sugar, garlic powder, salt and pepper. Stir rice into the tomato mixture and cook, uncovered, and stirring occasionally, about 5 minutes.
3
Transfer to a 9-by-13-inch baking dish and spread into an even layer. Add just enough water to cover the rice (about 2 cups). Tightly cover with a lid or foil and bake for 30 minutes without uncovering the baking dish. Turn off the oven, remove the rice, fluff the rice, then cover and return to oven for 10 minutes more.
Share this recipe