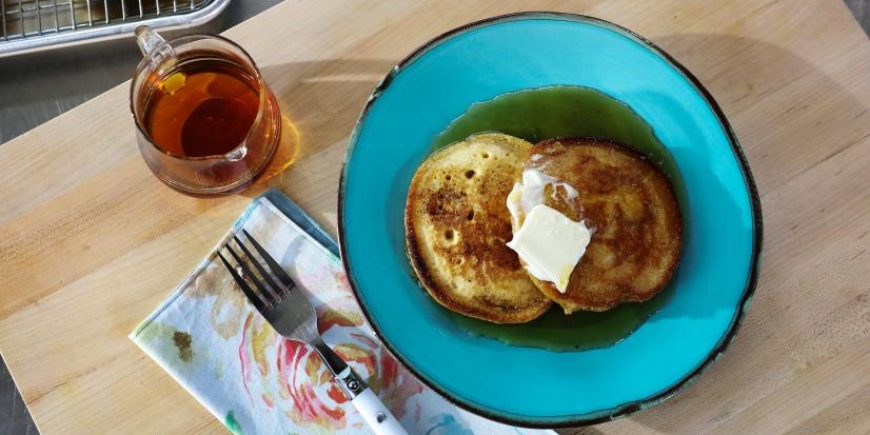 Hoecakes
Hoecakes (or as my grandmother calls them, fried bread) are the perfect combination of my favorites: a pancake and cornbread. Served with maple syrup or a simple drizzle of honey, this dish can be served at breakfast or as a side item during dinner. ...
Prep Time

10 min

Cook Time

15 min

Total Time

25 min

Yield

5 Servings (10 small cakes)
Ingredients
2 large eggs
1 cup buttermilk, plus more if needed
1 cup yellow cornmeal
1 cup all-purpose flour
2 tablespoons granulated sugar
1 teaspoon baking powder
1 teaspoon kosher salt
1/4 cup vegetable oil, plus more for the skillet
Unsalted butter, for the skillet, plus more for serving, optional
Syrup, for serving, optional
Method
1
Preheat the oven to 200 degrees F. Line a baking sheet with a wire rack.
2
Whisk the eggs and buttermilk in a medium bowl until beaten and combined. Whisk together the cornmeal, flour, sugar, baking powder and salt in a large bowl.
3
Combine the wet ingredients with the dry ingredients. Add a splash of water or an extra splash of buttermilk if it feels too thick. Add 1/4 cup of the vegetable oil and stir until just combined, being careful not to overmix. This is a thick batter.
4
Melt equal parts (about 2 tablespoons each) butter and vegetable oil in a large cast-iron skillet or griddle over medium heat. Working in batches, use an ice cream scoop to add small scoops (about 3 tablespoons each) of the batter to the skillet. Cook the hoecakes until bubbles start to appear in the face-up batter, 2 to 3 minutes. Flip and cook for another 1 to 2 minutes.
5
Remove the hoecakes to the wire rack and keep in the oven until they are all finished. Wipe out the skillet in between batches and add more butter and oil before repeating with the remaining batter.
6
Serve hot and fresh with butter and maple syrup if desired.