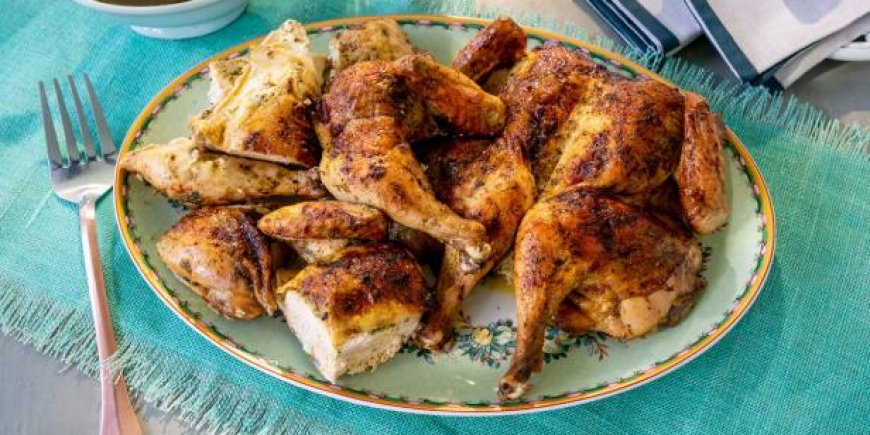 Low Country Spatchcocked Chicken
Every part of my Low Country Spatchcocked Chicken turns out so crispy and juicy! 🍗
Prep Time

30 min

Total Time

1 hr 30 min

Yield

8 - 10 Servings
Ingredients
2 cups packed fresh parsley leaves
12 tablespoons salted butter, softened
1/4 cup lemon juice (about 2 large lemons)
3 tablespoons fresh or dried oregano leaves
2 tablespoons dry sherry wine
1 teaspoon crushed red pepper flakes
4 cloves garlic, peeled and smashed
3 to 4 fresh sprigs thyme, leaved removed
1 teaspoon kosher salt
1 teaspoon freshly cracked black pepper
Two 5-pound whole chickens
Method
For the pimento cheese:
1
Preheat the oven to 450 degrees F.
2
In a food processor add the parsley, butter, lemon juice, oregano, sherry, red pepper flakes, garlic, thyme leaves, salt and pepper. Pulse until well combined. Scrape into small dish and set aside. Do not refrigerate.
3
Place each chicken, breast side down, on a cutting board. Using a chef's knife or kitchen shears, cut along one side of the backbone, repeat on the other side to remove the backbone completely. (Save it for stock!) Turn the chickens over to breast side up and press down on the breastbones with the heel of your hand until they crack. Tuck the wing tips under the chickens so they don't burn. Place both chickens on a rimmed baking sheet.
4
Rub half of the butter mixture under the skin of the breasts and thighs of each chicken. Melt the remaining butter mixture in a pan on the stovetop or in a microwave and brush all over the chickens.
5
Cover the chickens with foil and bake for 20 minutes. Uncover and baste with any remaining butter or cooking liquid on the bottom of the pan. Continue to bake until the chickens are dark brown with an internal temperature of 165 to 170 F on an instant read thermometer, 40 to 45 minutes more.