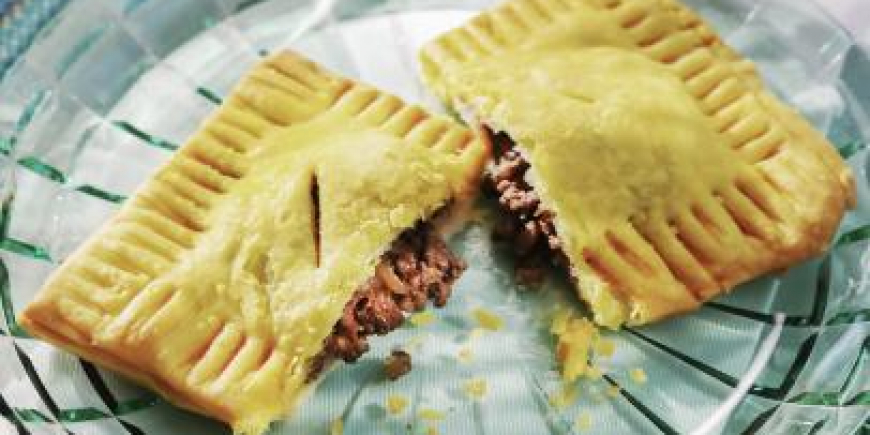 Mini Golden Beef Pockets
You know those handheld pizza pockets you can find in the freezer section of the grocery store? Well they were one of my favorite after-school snacks growing up so I've made my own version—a mashup of those pockets combined with another favorite of mine: Jamaican beef patties.
Prep Time

45 min

Total Time

1 hr 25 min

Yield

8 Servings
Ingredients
Filling:
1 tablespoon canola oil
1 pound lean ground beef
1 onion, finely diced
1 clove garlic, minced
1 tablespoon ketchup
1 to 2 teaspoons Caribbean all-purpose seasoning
1 teaspoon browning sauce, such as Grace
1 teaspoon dried jerk seasoning
1/2 teaspoon ground allspice
1/2 teaspoon ground ginger
1/2 teaspoon low-sodium soy sauce
1/2 teaspoon fresh thyme leaves
3 green onions, thinly sliced
1 small Roma tomato, diced
Kosher salt and freshly ground black pepper
Dough:
Two 14.1-ounce packages refrigerated pie crusts
1 stick (8 tablespoons) unsalted butter, at room temperature
2 teaspoons ground turmeric
Method
1
For the filling: Preheat the oven 400 degrees F. Line two baking sheets with parchment paper.
2
Heat the oil in a large skillet over medium-high heat. Add the beef, onion and garlic and cook until the beef is browned and crumbly, about 10 minutes. Stir in the ketchup, all-purpose seasoning, browning sauce, jerk seasoning, allspice, ginger, soy sauce, thyme, green onions and tomato. Cook until the mixture is bubbly and heated through, about 2 minutes. Season with salt and pepper. Set aside to cool.
3
For the dough: Unroll the dough and trim the edges to create a rectangle. Cut each pie dough into four even pieces. Place half of the rectangles on the prepared baking sheets. Spoon the filling evenly into the center of each rectangle. Brush the edges with water and place the remaining rectangles on top. Crimp the edges with a fork. Cut slits in the tops of the pockets to allow steam to escape. Bake until the dough begins to brown and crisp around the edges, about 10 minutes.
4
Meanwhile, mix the butter and turmeric in a bowl until combined. Brush the pockets with the turmeric butter. Bake until done, another 5 minutes.