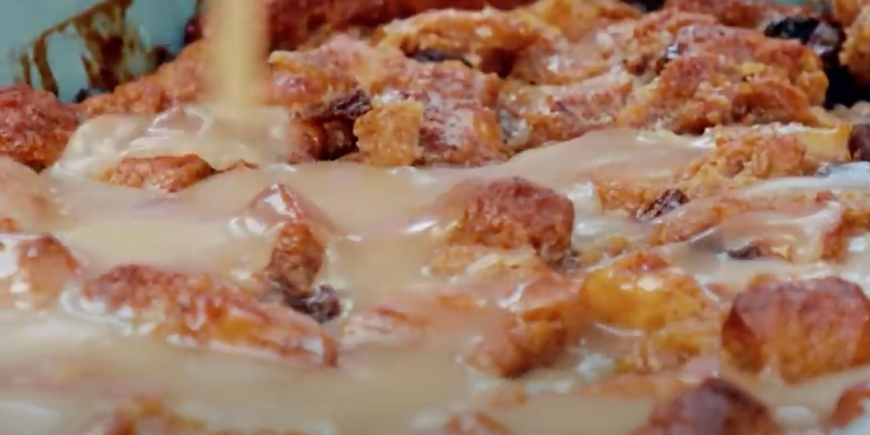 Not Your Grandma's Bread Pudding
Topped with a creamy bourbon sauce, you won't believe how good this comforting bread pudding recipe is.
Prep Time

30 min

Cook Time

45 min

Total Time

1 hr 15 min

Yield

9x13

Serving Size

150g

Energy

1,560 cal
Ingredients
Bread Pudding
4 cups heavy cream
6 large eggs
2 cup packed dark brown sugar
1 1/2 cups raisins
2 sticks (16 tablespoons) unsalted butter, melted
1 tablespoon ground cinnamon
2 teaspoons ground ginger
2 cups plus 2 tablespoons granulated sugar
2 loaves French bread, cut into 1-inch cubes (about 13 cups)
Nonstick cooking spray
Bourbon Sauce:
2 cups confectioners' sugar
1/3 cup bourbon
3 tablespoons unsalted butter
1 tablespoon whole milk
1/2 teaspoon ground cinnamon
Method
For the bread pudding:
1
In a large bowl, whisk together the cream and eggs. Add the brown sugar, raisins, butter, cinnamon, ginger and 1 cup granulated sugar. Mix well. Gently stir the bread cubes into the egg mixture. Refrigerate for 1 hour.
Preheat the oven to 350 degrees F and coat a 9-by-13-inch baking dish with cooking spray.
Pour the bread mixture into the prepared baking dish. If desired, sprinkle the top with the remaining 2 tablespoons of sugar. Bake until a knife inserted into the middle comes out clean, 45 to 50 minutes.
Meanwhile for the bourbon sauce:
2
Combine the confectioners' sugar, bourbon, butter, milk and cinnamon in a medium saucepan, bring to a simmer over low heat, whisking constantly until thickened and no longer watery, 2 to 3 minutes.
Final steps:
3
Serve with the bread pudding warm, at room temperature or chilled.
Share this recipe