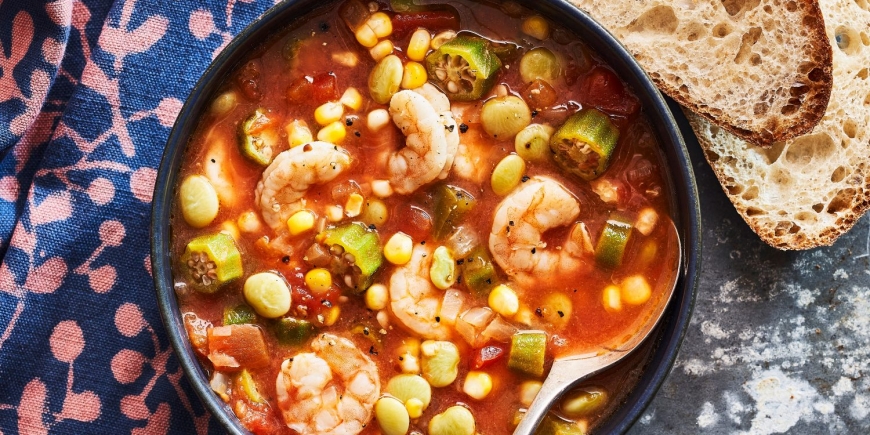 Okra Soup with Shrimp
While this recipe is filled with delicious vegetables (you can use fresh or frozen), spices, and aromatics, one of the main components is the fresh shrimp stock. Once you make this stock, you will never throw shrimp shells away again. Whenever you use fresh shrimp, remember to save the shells in a plastic container or bag and just keep them in the freezer until you have accumulated enough to make a batch of stock – which also freezes well. Pan-roasted, fried, or added to stews, Southerners love okra many different ways. Many people, however, don't like to cook with okra because it is slimy, but how you prep the okra will determine how slimy it gets. Water enhances the sliminess so don't wash the okra until you are ready to cook it. Let the okra sit at room temperature for a while before using it. Or, if you use frozen okra, cut it while it is still frozen to reduce the amount of slime.
Prep Time

30 min

Cook Time

1 hr

Total Time

1 hr 30 min

Yield

10 Servings
Ingredients
Shrimp Broth
12 ounces unpeeled raw shrimp
1 large carrot, coarsely chopped (1 cup)
3 stalks celery, coarsely chopped (1 cup)
1 small yellow onion, coarsely chopped (about 1/2 cup)
1 tablespoon unsalted butter
1 teaspoon kosher salt
1 bay leaf
Okra Soup
2 tablespoons olive oil
2 medium garlic cloves, minced (2 tsp.)
1 large yellow onion, chopped (about 4 cups)
1 medium-size green bell pepper, chopped (about 1 cup)
2 tablespoons unsalted butter, divided
4 teaspoons kosher salt, divided
2 cups fresh or thawed frozen corn kernels
2 cups thawed frozen lima beans
2 fresh plum tomatoes, diced (1 cup)
1 (28-oz.) can diced tomatoes
1/4 teaspoon black pepper
2 1/2 cups sliced fresh or thawed frozen okra
1 teaspoon ground ginger
2 tablespoons fresh lemon juice (from 1 lemon)
Hot cooked white rice (optional)
Method
Prepare the Shrimp Broth:
1
Peel and devein raw shrimp, reserving shells. Cover and refrigerate shrimp until ready to use. Rinse shells with cold water until clean. Place shrimp shells, 5 cups water, chopped carrot, celery, onion, butter, kosher salt, and bay leaf in a large stockpot. Bring to a boil over high, and boil, stirring occasionally, about 5 minutes. Reduce heat to medium-low, and simmer, covered with lid slightly ajar, until reduced to about 3 cups, about 45 minutes; skim off and discard any foam or other impurities that rise to the top. Pour broth through a fine mesh strainer into a bowl; discard solids.
Prepare the Okra Soup:
2
Heat a large gumbo pot or 5- to 6-quart Dutch oven over medium-high. Add olive oil, garlic, onion, bell pepper, 1 tablespoon of the butter, and 1 teaspoon of the salt. Cook, stirring often, until vegetables soften, 4 to 6 minutes. Stir in corn, lima beans, and plum tomatoes until well combined. Stir in canned diced tomatoes, reserved Shrimp Broth, and 2 teaspoons of the salt; bring to a boil. Reduce heat to medium-low, and simmer until mixture is slightly thickened, about 20 minutes.
3
Meanwhile, melt remaining 1 tablespoon butter in a medium skillet over medium-high heat. Add the reserved shrimp, and season with pepper and 1/2 teaspoon of the salt. Cook, stirring occasionally, until the shrimp begin to turn pink, about 2 minutes. Add sliced okra, ground ginger, and fresh lemon juice. Continue cooking, stirring occasionally, until okra and shrimp are cooked through, about 2 minutes. Remove from heat.
4
After soup has simmered 20 minutes, add shrimp-and-okra mixture. Cook until shrimp are heated through, 1 to 2 minutes. Season with remaining 1/2 teaspoon salt, and stir. Ladle into individual bowls. (If desired, spoon rice evenly into bowls before adding soup.)