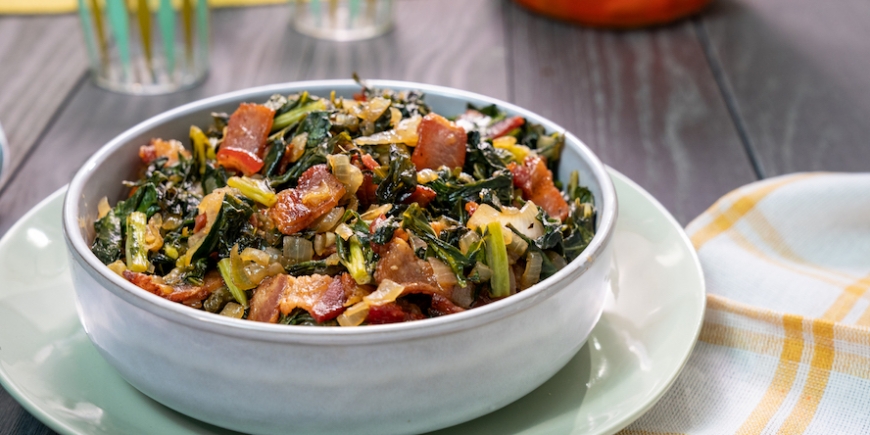 Pan Fried Collard Greens
A staple side dish in Southern homes, collard greens slather savory flavor on any dinner plate — and my recipe takes these essential greens to the next level with mouth-watering thick-sliced bacon bringing the "more, please" umami flavor. Cooked in a low-and-slow-style (but ready in 30 minutes), these pan-fried collard greens are tender, garlicky and just a tiny bit sweet thanks to a hint of honey.
Prep Time

10 min

Cook Time

40 min

Total Time

50 min

Yield

4 Servings
Ingredients
6 thick bacon slices, chopped into large pieces
1 large onion, diced
3 cloves garlic, minced
2 lbs. collard greens (about to 2 large bunches), stems discarded, leaves washed and chopped
1 Tbsp honey
A few dashes of hot sauce
Kosher salt and freshly cracked black pepper
Method
1
Add bacon to a large skillet over medium heat. Cook bacon, stirring occasionally, until crispy, about 5 minutes. Use a slotted spoon to remove the bacon from the pan and set aside, leaving the fat in the pan.
2
Add the onion to the bacon grease and cook, stirring, until softened, about 3 minutes. Stir in garlic and cook, stirring, for another 30 seconds or so, until fragrant. Add the greens, honey, hot sauce and a few pinches of salt and pepper. Cook the greens, stirring occasionally, until greens are nice and tender, 25 to 30 minutes. Taste and add more salt and/or pepper if necessary. Serve hot with bacon on top.