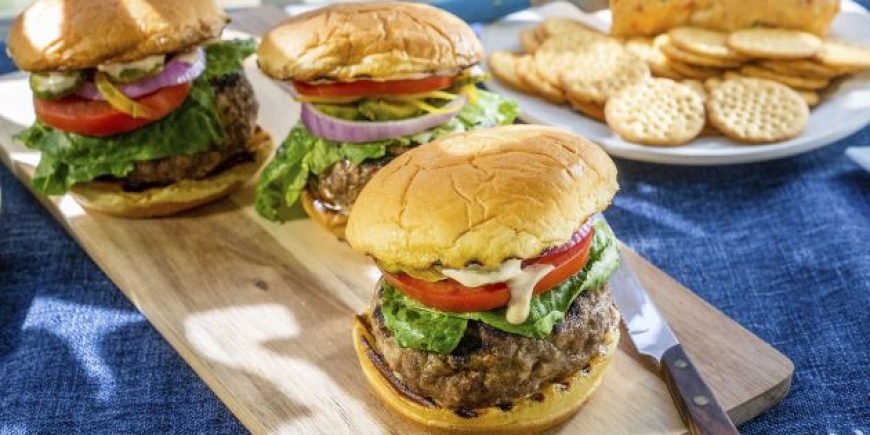 Pimento Cheese Stuffed Burgers
This burger stuffed with my homemade pimento cheese has us all 🤤🤤
Prep Time

35 min

Cook Time

10 min

Total Time

45 min

Yield

4 Servings
Cooking Method

Freezing or Refrigeration
Grill
Ingredients
Pimento Cheese:
8 ounces extra-sharp yellow Cheddar, shredded
4 ounces white Cheddar (preferably Vermont Cheddar), shredded
8 ounces cream cheese, softened
4 ounces diced pimentos, drained and juice reserved
3 tablespoons mayonnaise
1 tablespoon finely chopped fresh chives
1 teaspoon garlic powder
1/2 teaspoon cayenne pepper
1/2 teaspoon smoked paprika
Kosher salt and freshly ground black pepper
Sauce
1/2 cup mayonnaise
A few dashes hot sauce
Dash Worcestershire
Pinch paprika
Kosher salt and freshly ground black pepper
Burgers
1 pound 80/20 ground beef
1 pound ground pork
2 tablespoons plain breadcrumbs
2 tablespoons Worcestershire sauce
1 large egg, lightly beaten
1/2 teaspoon kosher salt
1/2 teaspoon freshly ground black pepper
Vegetable oil, for oiling grill grates
4 hamburger buns, buttered and toasted
For serving: lettuce, sliced tomato, pickles, sliced red onion
Method
For the pimento cheese:
1
Add the Cheddars, cream cheese, pimentos and mayo to a bowl and mix together. Add the chives, garlic powder, cayenne, smoked paprika and salt and pepper and mix until thoroughly combined.
2
Place the cheese mixture on a sheet of plastic wrap and form into a log. Freeze for a few minutes or refrigerate up to overnight.
For the sauce:
3
Mix together the mayonnaise, hot sauce, Worcestershire, paprika and 1 tablespoon reserved pimento juice in a medium bowl. Season with salt and pepper.
For the burgers:
4
Preheat a grill to medium heat.
5
Mix the meats, breadcrumbs, Worcestershire, egg, salt and pepper together in a bowl with your hands until completely combined. Divide the meat into 8 portions and shape each into large thin patties. Slice four 1/2-inch slices off the pimento cheese log (reserve the rest for another use…snacking!). Place a pimento cheese slice on four of the patties and then top them with the remaining four patties, sealing the sides of the patties to enclose the cheese. (See Cook's Note.)
6
Lightly oil the grill grates. Add the patties to the hot grill and cook until they reach an internal temperature of 160 degrees F, about 4 minutes per side.
7
Spread the sauce on the buttered buns. Top each with lettuce, tomato, pickles, onions and a patty and close the burgers. Eat with lots of napkins.
Stuffed patties can be made ahead and refrigerated until ready to use.