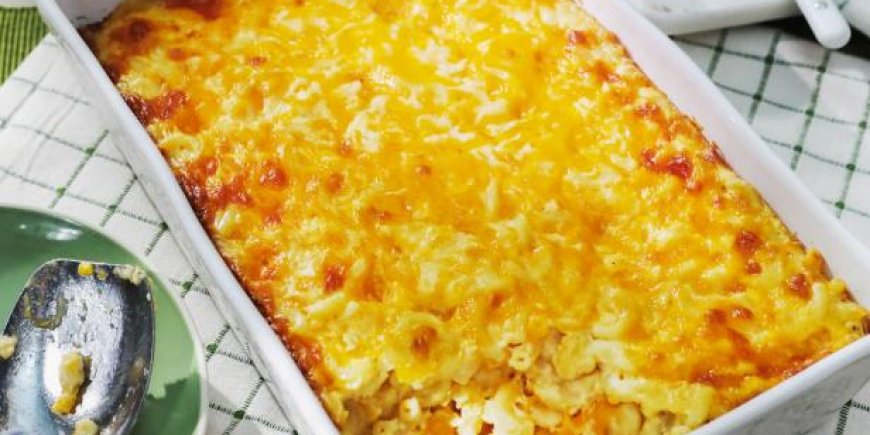 Super Decadent Mac and Cheese
Love mac and cheese but still haven't found that PERFECT go-to, never-fail recipe for it? I got you covered.
Prep Time

25 min

Total Time

1 hr

Yield

8 - 10 Servings
Ingredients
1/4 cup unsalted butter, plus more for greasing the dish
Kosher salt and freshly ground black pepper
1 pound elbow macaroni
1/4 cup all-purpose flour
2 cups whole milk
1/2 cup heavy cream, plus more if needed
4 ounces cream cheese
One 16-ounce block sharp Cheddar, shredded
1 1/2 cups extra-sharp Cheddar, cut into 1/2-inch cubes
1 teaspoon granulated garlic
2 large eggs
1/2 cup sour cream
Method
1
Preheat the oven to 350 degrees F. Grease a 9- by 13-inch baking dish with butter.
2
Bring a large pot of salted water to a boil, add the macaroni and cook, stirring occasionally, until al dente, about 7 minutes. Strain in a colander, run cold water over the pasta and set aside.
3
Using the same pot the macaroni was cooked in, melt the 1/4 cup butter over medium heat, add the flour and whisk until smooth. While whisking constantly, slowly add the milk and then the cream. Bring to a simmer, add the cream cheese and the shredded Cheddar except for 1/2 cup and stir until melted. Stir in the granulated garlic, 1/2 teaspoon salt and 1/4 teaspoon pepper. Remove the cheese sauce from the heat and stir in the macaroni. Season with salt and pepper.
4
Whisk together the eggs and sour cream in a small bowl and then fold into the macaroni and cheese. Spread the mixture into the prepared baking dish, fold in the cubed Cheddar and top with the reserved 1/2 cup shredded Cheddar. Bake until the top just begins to brown, about 20 minutes. Loosely cover with foil and bake 10 to 15 minutes more.