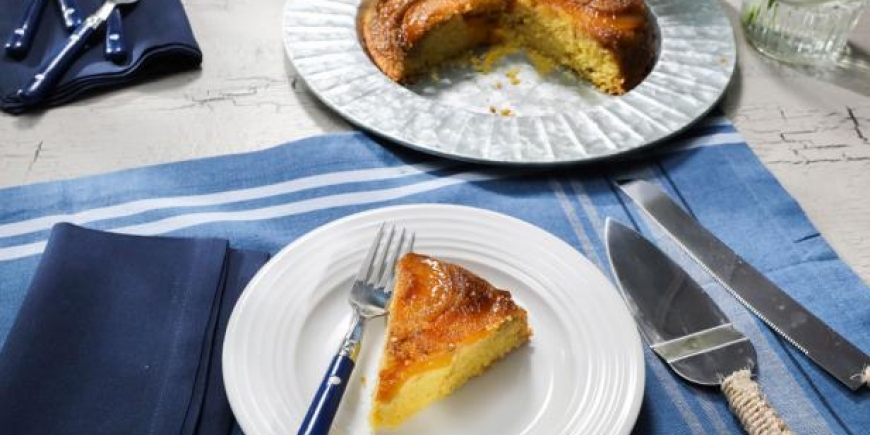 Upside-Down Peach Cornbread Cake
Southern cornbread meets sweet peaches to make my Upside-Down Peach Cornbread Cake 😍
Prep Time

35 min

Total Time

1 hr 50 min

Yield

8 - 10 Servings
Ingredients
3/4 cup (1 1/2 sticks) unsalted butter
1/3 cup light brown sugar
1 teaspoon ground cinnamon
1 teaspoon kosher salt
3 fresh peaches, pitted and sliced 1/2-inch thick, or 3 cups frozen peaches, thawed
1 cup finely ground yellow cornmeal
3/4 cup all-purpose flour
1 teaspoon baking powder
3/4 cup granulated sugar
3 large eggs, at room temperature
1/2 cup whole milk, at room temperature
Method
For the pimento cheese:
1
Preheat the oven to 350 degrees F.
2
Melt 3 tablespoons butter in a 10-inch cast-iron skillet over medium heat. Stir in the brown sugar along with the cinnamon and 1/2 teaspoon salt, then cook, stirring, until the sugar is melted and begins to bubble, about 10 minutes. Remove the skillet from the heat and let it cool slightly.
3
Arrange the peaches in the bottom of the skillet, fanning out in a circular pattern. Set aside.
4
Whisk together the cornmeal, flour, baking powder and remaining 1/2 teaspoon salt in a small bowl. In a stand mixer fitted with the paddle attachment or using a hand mixer, beat the remaining 9 tablespoons butter together with the granulated sugar on high speed until light and fluffy. Add the eggs, one at a time, beating after each addition. On low speed, add half the dry ingredients, half the milk, the remaining dry ingredients, then the remaining milk. Increase the speed to medium and beat just until everything is well mixed, scraping down the bowl once. (Use a spatula to be sure there are no dry ingredients stuck to the bottom of the bowl.) Drop the batter in large dollops over the peaches in the skillet, then use an offset spatula to gently smooth it out, being careful not to disturb the peaches.
5
Bake until the top is golden brown and puffed and a tester inserted in the center comes out clean, 40 to 45 minutes. Let cool for 20 minutes. While the cake is still warm, run a butter knife around the outside, then invert onto a serving platter. Serve warm.